The Certified Sweatsaver Helmet - Color Collection
The Holy Grail of Comfort and Protection
The FIRST and ONLY helmet to fully integrate the best of high impact absorbing EPS Foam with thick dual density soft foam and plush Sweatsaver fabric, delivering the ultimate in comfort with dual certified protection.
Dual Certified: Complies with U.S. CPSC Safety Standard for Bicycle Helmets for Persons Age 5 and Older and ASTM F-1492 Skate safety standards.
Includes 2 sets of Sweatsaver liners to customize fit
A portion of sales will be donated to The Skatepark Project to continue its mission of helping underserved communities create safe and inclusive public skateparks for youth.
To ensure a perfect fit, measure the circumference of your head starting in the middle of your forehead and match it with the sizes below:
XS/S 20 – 21.25 in (51 – 54 cm)
S/M 21 – 22.5 in (53 – 57 cm)
L/XL 22.5 – 23.5 in (57 – 60 cm)
XL/XXL 23.5 – 24.5 in (60 – 63 cm)
Skateboarding; Biking; In-Line Skating/Roller Skating, Scooters
Complies with U.S. CPSC Safety Standard for Bicycle Helmets for Persons Age 5 and Older and ASTM F-1492 Skate safety standards.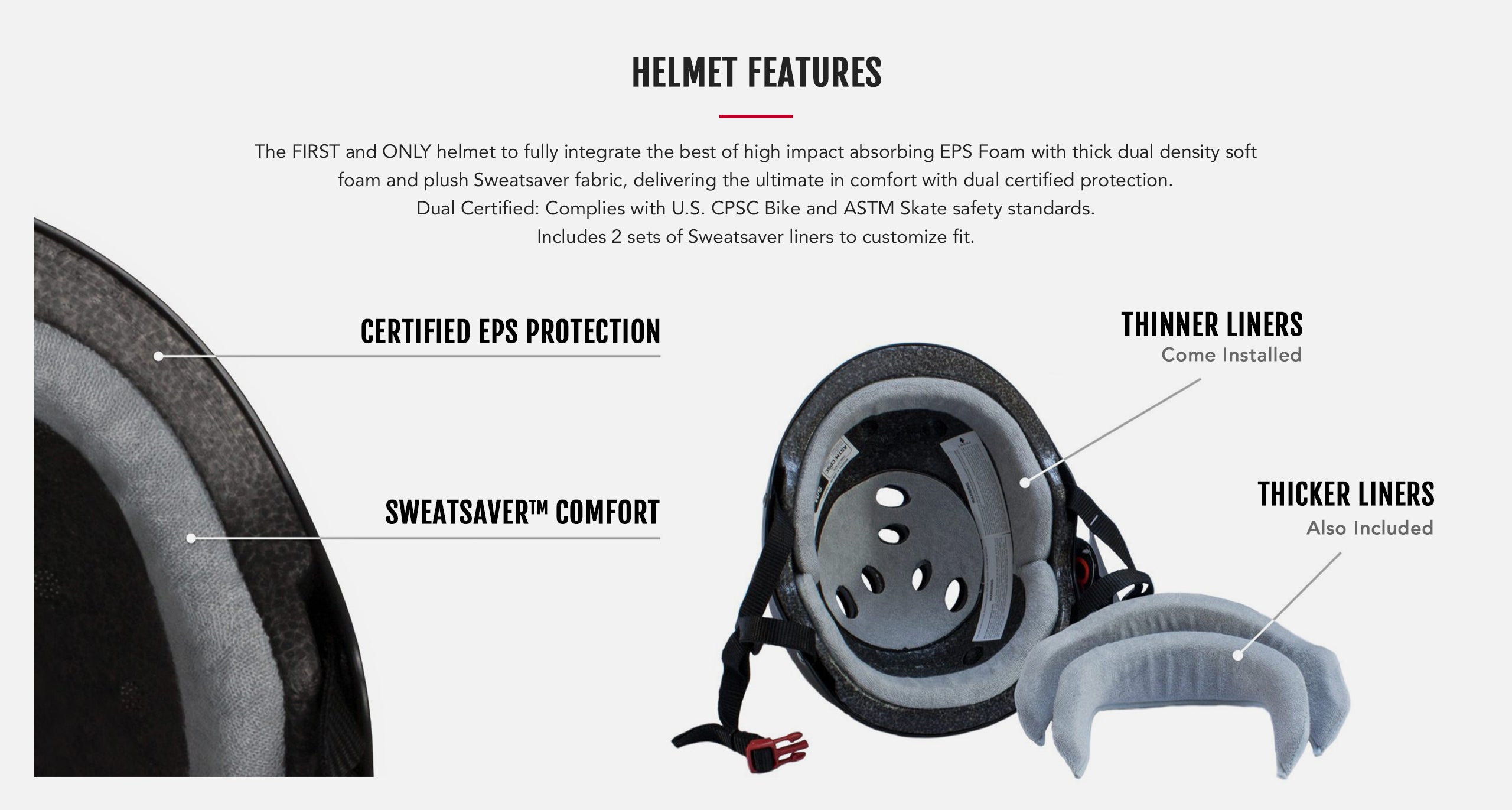 Kick Ass Helmet!!!
I love my new helmet, the fit is perfect and the design is super cute! This is a quality helmet- amazing. So happy I purchased this one ☺️
Proven concussion protection
I agree with the other reviewers that it looks amazing, but most importantly, this helmet saved me at derby practice during a hard fall. It is also quite comfortable and truly keeps sweat from dripping down my head.
From shipping time to quality products and customer service, triple eight has made a loyal customer of me.
Incredible Fit and Design!
Recently purchased The Certified Sweatsaver Helmet. My friends all swear by Triple Eight gear, so I browsed the selection and used their sizing chart to help me pick the right size.
I love the fit! It's snug but comfortable, with the chin strap being easily adjustable. Comes with extra liners to help with finding the perfect fit.
As for the design, every detail is perfect, even down to the chin strap! I bought a black helmet with some rainbow lightning and the rainbow hologram effect is far more pronounced than I expected. Stunning gear, from design, to fit, and function. Top notch!
So comfortable so cute and so worth it!
I was a huge inline skater as a kid, and just started skating again (4 wheel this time). This is such a cute helmet to wear for outdoor skating, it fits well, and rests really comfortably without slippage. It's also adorably cute and easy to pair with infinite amount of pastels I wear. And if I think it'll be a particularly sweaty skate, I just insert the next biggest liner for extra grab.
Love it!
Super cool helmet
I adore this helmet. It's well made and the amazing lightning bolt design is so pretty and looks like it will hold up well. I normally hate how I look in helmets but this one has a great shape and I like the visibility. It's hard to find a fun, unique helmet that's also safe. So happy with this one. O